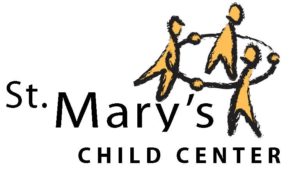 Since 1961, the safety of children has been our top priority. St. Mary's Child Center aspires to operate in a way that protects all aspects of our students' lives while upholding our mission of providing a high-quality early childhood education. We are constantly assessing the needs of our mission-critical programs and activities in order to provide the most beneficial services to the people we serve.
St. Mary's Child Center is a not-for-profit agency that offers two early childhood initiatives to positively impact the futures of young children: The Preschool Program and The Educational Outreach Program.
St. Mary's Child Center's mission statement is:
Based on the premise that the children we serve are inherently competent, capable, and strong, St. Mary's Child Center:
Integrates highly effective professional educators with a proven learning philosophy.
Uses qualitative measures to show impact.
Impacts preschool children in poverty — who are at life and learning risk — with the highest quality cognitive, creative, social, physical, and emotional learning experiences that will transition into a foundation for lifelong success.
Is accountable to the children and families served, stakeholders and contributors, and the early childhood learning community.
Every member of the Invigorate Spa team would like your help to make St. Mary's Child Center stronger and help more deserving children; we believe between the two of us, we can make a difference in a child's life.
No donation is too small!  We appreciate your help.
All donations are tax deductible!