Things You Need to Know About Our New Eminence Organic Skincare Gemstones-Infused Collection

Gemstones have generated a lot of buzz lately in the beauty industry, and suddenly they've become the new skincare thing. They have been used for health and beauty for thousands of years because of their regenerative and energetic properties.
And when it comes to taking care of your skin, it makes sense to treat something as precious as your skin, with something as equally precious as gemstone-infused skincare. In case you missed it, the leading organic skincare products creator have once again re-invented the way skincare is with its new collection — Eminence Organic Skincare Gemstone Collection.
Since these are new drops, let us walk you through the things that you need to know about this exciting and truly precious collection.
The Gemstones
This collection features three key elements:
1. Citrine: The stone of light and happiness
2. Pink Tourmaline: The stone of self love and inner healing.
3. Malachite: The stone of transformation and protection.
The Gemstone Collection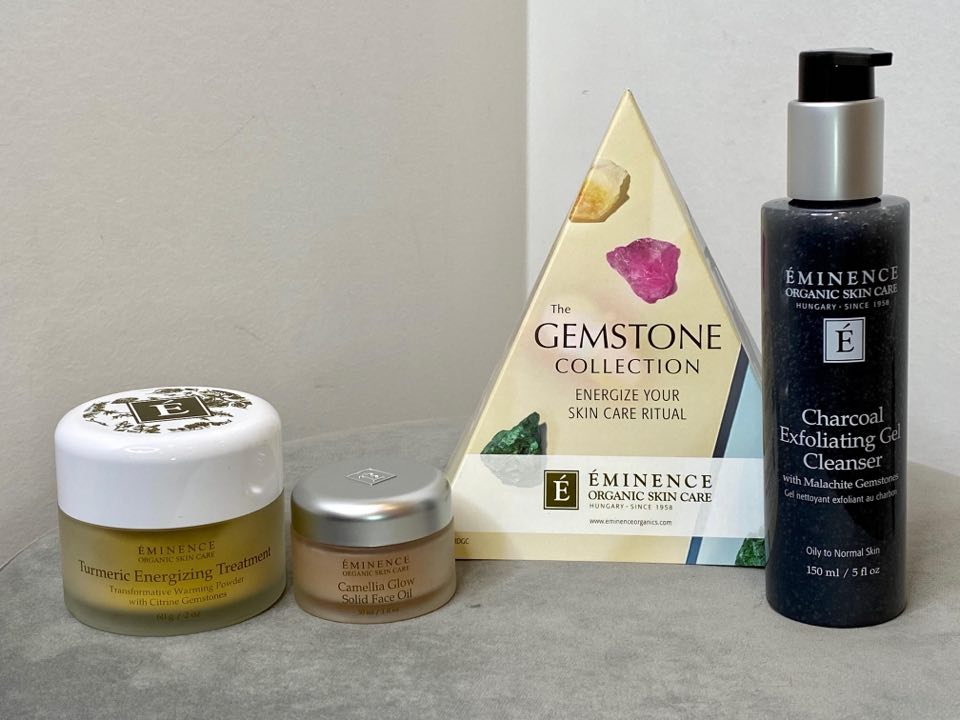 Infused with natural gemstones, this collection includes the new Turmeric Energizing Treatment, Camellia Glow Solid Face Oil and Charcoal Exfoliating Gel Cleanser. Each formula will transform before your eyes and awaken your senses as powerful botanicals reveal balanced, energized and glowing skin.
Camellia Glow Solid Face Oil
This beautiful solid face oil is blended with luxurious camellia oil, pink tourmaline gemstones and marula oil to soften and deeply hydrate the skin. Melt a small dab into your palm, close your eyes and let your senses guide you as you massage in to reveal your healthiest glow.
Key Ingredients:
Camellia Oil: highly moisturizing; revitalizes and rejuvenates the look of skin, leaving the complexion looking soft and supple
Pink Tourmaline Gemstones: encourages the mind and spirit to feel positive thoughts, boosting a glow from within.
Marula Oil: rich in fatty acids; super hydrator for soft, smooth skin; combats the visible signs of aging due to drying environmental stressors
Hemp Seed Oil: rich in vitamins and antioxidants that improve the appearance of aging; moisturizes the skin
How To Use: Melt a pea-sized amount of product in palms and apply to the face and neck with circular motions. Leave on. May be followed with a moisturizer.
Charcoal Exfoliating Gel Cleanser
Formulated with charcoal, malachite gemstones and blue matcha, this supercharged purifying cleanser transforms from a gel to an exfoliating lather to wash away impurities and reveal a balanced complexion.
Key Ingredients:
Charcoal: draws out oil, dirt and other harmful substances from clogged pores due to its absorption powers; improves the appearance of skin health
Malachite Gemstones: stone of transformation, helps the mind release stress and feel optimistic and balanced
Blue Matcha (Butterfly Pea Flower): Rich in antioxidants that improve the visible signs of aging; increases the appearance of skin's vitality
Peppermint: rich in antioxidants and Vitamins A and C that target and improve the appearance of aging
How to Use: Mix a small amount of product with water in hands, apply and massage gently with fingertips in a circular motion covering the face and neck areas. Rinse thoroughly and pat dry. Do not use on broken or abraded skin.
Turmeric Energizing Treatment
Formulated with turmeric, citrine gemstones and zeolite, this spicy golden powder awakens the skin. As you slowly add water, activate your treatment into a fluffy mousse bursting with energy. Embrace the warm, exfoliating sensation and reveal silky, luminous skin.
Key Ingredients:
Turmeric: potent antioxidant that visibly brightens the appearance of skin and reduces the look of puffiness
Citrine Gemstones: stone of light and happiness that helps the mind and body feel recharged, motivated and energized
Paprika: invigorates skin, leaving it soft and glowing
Zeolite: exfoliates deeply; releases energy upon contact with water resulting in the skin feeling warm and invigorated; improves the skin's appearance by smoothing and tightening; evens the look of skin tone
Kaolin Clay: deeply cleans and softens the skin, gently draws out impurities without stripping moisture from the skin
How To Use: Dispense 1 small scoop of powder (about 1 teaspoon) into the outer cap. Gradually stir in a few drops of water until whipped-mousse texture is achieved; recommended ratio is 4 parts powder to 3 parts water. Apply a thin layer to the entire face, extend to the neck and décolleté as desired. Let dry for 10 – 30 minutes. Rinse with tepid water, massaging gently to exfoliate. A hot tingling sensation lasting a few minutes is a natural response to this product. For milder stimulation, dilute with more water. Note that the product is water activated; the tingling sensation dissipates over time and will resume during rinse-off. Use of steam, hot towels or warmer water will intensify the heat.
Aside from this collection's key ingredients, Eminence Organic Skin care took its fame from releasing organic skincare products (the name says so!). Here are the other key features of this collection:
Eminence Organic Skin Care believes in: Organic, Natural, Biodynamic®, Sustainable, and Cruelty-Free products.

While it highly disapproves: Parabens, Phthalates, Sodium Lauryl Sulfate, Propylene Glycol,and Animal-Testing.
Check out our 100% organic and vegan skin care products here that you can use this hot season. Good news: We SHIP for FREE!